Androutsopoulos Ion (Ioannis)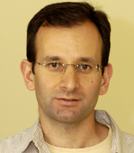 Diploma in Electrical Engineering, National Technical University of Athens, 1991.
MSc in Information Technology/Knowledge-Based Systems, University of Edinburgh, 1994.
PhD in Artificial Intelligence, University of Edinburgh, 1996.
Office:
Main Building, Antoniadou Wing, 5th floor
Telephone:
+30 210 8203 122
Research Interests:
Artificial Intelligence, mostly Natural Language Processing.
For more information about my research interests, publications, information about the courses that I teach, full CV etc., please consult my personal Web pages.