Giakoumakis Emmanuel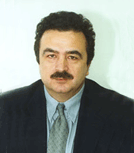 Diploma of Electrical Engineer, National Technical University of Athens (1981)
Ph.D., Dept. of Electrical Engineering and Computer Engineering, National Technical University of Athens (1988)
Office:
Main Building, Antoniadoou Wing, 5th floor
Telephone:
+30 210 8203 183
Research Interests:
Software Engineering: object oriented software, design patterns.
Biomedical applications: biomedical signals and diagnosis.
Telecoms regulation and competition: Relevant markets' analysis, Broadband penetration.
Selected Publications:
"QRS detection through time recursive prediction techniques", Kyrkos A., E.A. Giakoumakis, G. Carayiannis, Signal Processing, vol. 15, 429-436, December 1988.
"Evaluation and Selection Criteria for Software Requirements Specification Standards", Giakoumakis E.A. and G. Xylomenos, Software Engineering Journal, vol. 11, No. 5, 307-319, 1996.
"Unsupervised stratification of cross-validation for accuracy estimation", Diamantidis N.A., D. Karlis, E.A. Giakoumakis, Artificial Intelligence, 116 (2000), 1-16, 2000.
"Context-based caching and routing for P2P web service discovery", Christos Doulkeridis, Vassilis Zafeiris, Kjetil Nørvåg, Michalis Vazirgiannis, Emmanouel A. Giakoumakis, Springer Distributed and Parallel Databases Journal special
issue on Context-aware Web services, Vol. 21, Issue 1, pages 59-84, February 2007.
"An Agent-based Perspective to Handover Management in 4G Networks ", Vassilis Zafeiris, Emmanouel Giakoumakis, D. Wiley's Wireless Communications and Mobile Computing Journal, Vol. 8, Issue 7, pages 927-939, 2008.
Other Activities:
Has served at the following positions:
2000-2005: Chairman of the National Telecommunications and Post Commission of Greece (E.E.T.T.), the Greek National Regulatory Authority.
1998-2000: Secretary General for Communications, in the Ministry of Transport and Communications.
1995-1997: Chairman and Managing Director of the "Hellenic Information Systems S.A"
1987-1990: Director of Informatics Department of "Hellenic Agency for Local Development and Local Authority S.A"