Milis Ioannis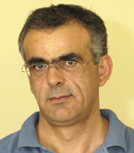 Democritus University of Thrake (BS, Electrical Engineering, 1978-1983)
Athens University of Economics and Business (PhD, Computer Science, 1985-1989)
Research Interests:
Design and analysis of algorithms; applications to computer and communication systems and networks, combinatorial optimization, graph theory and game theory.
Selected Publications:
Many of my publications can be found in DBLP Computer Science Bibliography Server.
A complete list, including those not listed by DBLP, is available here.

I am also a co-author of the next book (in Greek):
J. C. Cavouras, I. Milis, G. Xylomenos, A. Roukounaki, Distributed Systems with Java,
Kleidarithmos Editions, Athens 2005, pages xiv+557, ISBN 960-209-829-5.
Selected Projects:
· Weighted Graph Coloring, Basic Research Funding Program (BRFP), AUEB, 2009-2010.
· Optimization problems in computer and communication networks:
Theoretical foundations, design of efficient algorithms experimental software development,
General Secretariat of Research and Technology of Greece, PENED 2003 Program, 2006-2009.
· APProximation and On-Line algoritmhs II (APPOL II), European Commission, IST-FET, 2001-2004.
Other Activities:
Co-founder of the Athens Colloquium on Algorithms and Complexity (ACAC)
and co-organizer of its 2006, 2007, 2008 and 2009 issues.
· Program Committee member of Euro-Par 2002 (Vice Chair for Conference topic 3: Scheduling and Load Balancing)
· Invited Speaker in International Workshops και Seminars (Luminy- France, Aussois-France, Dagstuhl Research Center-Germany).
· Referee for International Journals (SIAM J. on Computing, Algorithmica, Annals of Operation Research, Discrete Mathematics,
Distributed Computing, Journal of Graph Theory, Parallel Computing, Theoretical Computer Science, κ.α) and Conferences
(CCS, ESA, PODS, APPROX, WAOA , NETWORKING κ.α.),